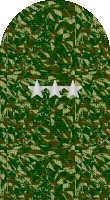 General (A-4) is a Starfleet Marine Corps rank, senior to a Lieutenant General but subordinate to a Field Marshall. There are typically thirteen generals in the Marine Corps, including all ten Expeditionary Force commanders, the Chief of the Starfleet Rangers, the Chief of Armor, and the Chief of the Starfleet Marine Air Assault Division.
Ad blocker interference detected!
Wikia is a free-to-use site that makes money from advertising. We have a modified experience for viewers using ad blockers

Wikia is not accessible if you've made further modifications. Remove the custom ad blocker rule(s) and the page will load as expected.